Create a stunning portfolio
Griddle makes it easy to put together a beautiful portfolio, with a clean and simple grid layout that gives visitors an instant overview of your work.
Fully responsive
Griddle looks and works great on all devices – we've made sure the experience is perfect wherever people are visiting your site.
Simple setup
You can get Griddle set up on your site super fast – no plugins or complicated set-ups, just add your Pages, create your Portfolio and Blog posts, and you're ready to rock!
Organize your work
We've made it easy to organize the work in your portfolio with tags – you can even link directly to specific tags of portfolio items in your menu to create an organized browsing experience.
Customize everything
Colors, fonts, sizes, images, labels, logo image – you can change everything you see with the built-in theme options.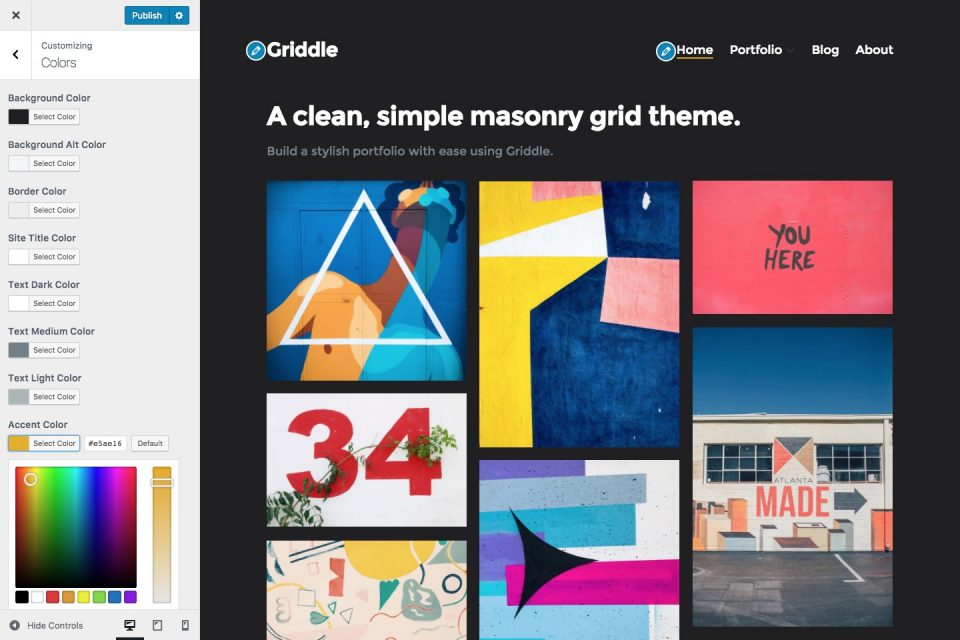 Galleries
Make use of WordPress' Galleries feature to show off your work. A single column gallery becomes an animated carousel. Or add a multi-column gallery for a masonry grid layout, view a 'lightbox' viewer. Using galleries helps you tell your story in a more immersive way.
YouTube and Vimeo
Videos are an awesome way to show off your work in a more engaging and personal way. And we've made sure they work great on our themes. Just paste a URL from YouTube or Vimeo into the post editor – WordPress and the theme handle everything else.
Ajax loading
Every page on the theme loads using sleek Ajax with quick transitions, giving your visitors a seamless experience using your site.
Blog
Griddle has a fully featured blog, using the same great masonry grid layout. It has all the same features as your portfolio posts, as well as categories, comments and a sidebar for your widgets.
Post navigation
We've built in post navigation at the bottom of Portfolio and Blog posts, so you can keep your visitors engaged and looking through your content.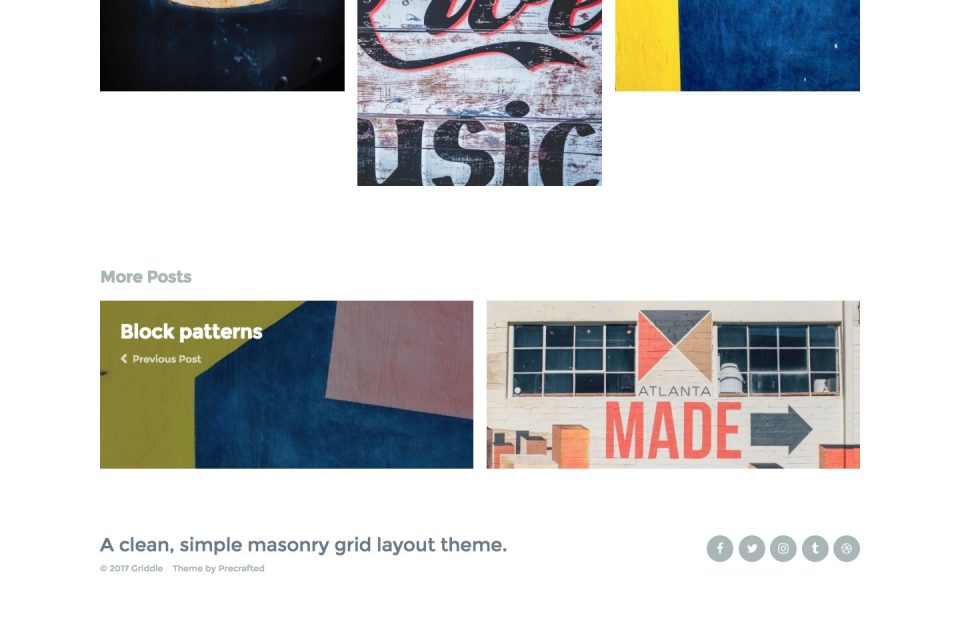 No plugins required
Our WordPress themes do not require plugins to use any of the features shown. This means less setup time for you, less maintenance, and less annoying conflicts. You can of course use plugins to extend the functionality of your site, but only if you want to.
One off payment, unlimited updates
$49 gets you a license to use the theme on a single website, forever. When we update the theme you'll get sent a link to download the new version.
Awesome support
Our themes are backed up by free, unlimited support. We're always here to help with any questions or problems you might have.